Shopping Cart
Your Cart is Empty
There was an error with PayPal
Click here to try again
Thank you for your business!
You should be receiving an order confirmation from Paypal shortly.
Exit Shopping Cart
Genealogy of the Woodcock Valley
Huntingdon County, Pennsylvania
| | |
| --- | --- |
| Posted on May 14, 2013 at 10:15 PM | |
The Riley family has been putting flags on seven of the Woodcock Valley cemeteries for many generations.  We finished putting flags on for Memorial Day 2013 this evening.  My husband and I usually do the flags, but we had to add some extra help this year since my husband broke his leg!  My father-in-law was glad to help; and I enjoyed his help, because it was like a walking history lesson.
I was contacted by Dale Norris this past year, who found another veteran in the Old Stone Church Cemetery that has never had a marker or flag to decorate his tombstone.  It turns out after some research that the Reverand Matthew G. Boyer was another Civil War representative from the Woodcock Valley.
Matthew G. Boyer was born March 10, 1839, a son of Henry Boyer and Susannah Brumbaugh (Garner) Boyer.  In 1863, Matthew G. Boyer was a student at Gettysburg College and Seminary.  In the midst of the Civil War, with troops approaching Gettysburg, Matthew G. Boyer, along with 56 of his classmates, joined Company A of the 26th Pennsylvania Emergency Militia Infantry.  The unit was organized at Harrisburg on June 22, 1863 for the protection of Pennsylvania against Lee's invasion, and was mustered out on July 31, 1863.  Mattew G. Boyer was a private.  More information about his regiment can be found by clicking on the link above.  You can also view his name on the Pennsylvania Monument at Gettysburg by clicking on the link.
Matthew G. Boyer was not a long-term veteran, but he helped to do his part at Gettysburg:
26th Pennsylvania Emergency Infantry o

rganized at Harrisburg and volunteered for the emergency

Mustered into United States service June 22, 1863
Mustered out July 31, 1863
Co. A recruited from Pennsylvania College and Gettysburg
Total enrollment 743
Captured and missing in Gettysburg campaign - 

176 officers and men

The First Union Regiment to engage the Confederates 

at Gettysburg and delaying their advance one day.
So, this Memorial Day, we are proud to place a flag and Civil War marker on the grave of Matthew G. Boyer.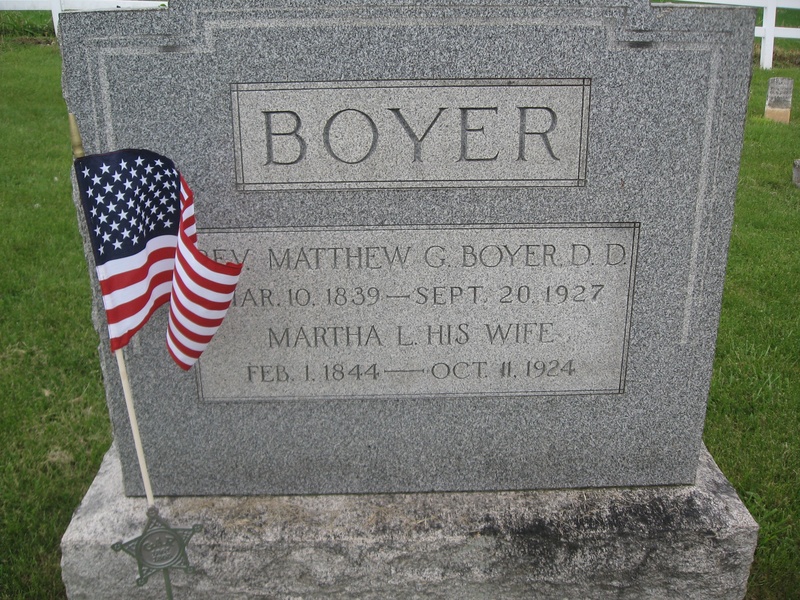 Matthew G. Boyer earned his doctorate at the University of Pennsylvania.  He married Martha L. Stauffer.  They were the parents of at least three sons and one daughter.  Matthew G. Boyer died on September 20, 1927, and is buried in the Old Stone Church Cemetery in Penn Township, Huntingdon County, Pennsylvania.
There was one other stone I photographed this year too.  I've been putting a flag on the stone of Gerald I. Grubb since I started helping my future husband in 2002.  However, I had no personal connection to Gerald until this year.  Earlier in 2012, I did a blog post on Gerald Isaac Grubb after I was contacted by Nancy, who had found his World War II journal.  Gerald paid the ultimate sacrafice while serving his country in the Aleutian Island area.  
I was recently contacted by Gerald's niece, Karla, and his sister-in-law, Ruth.  They read my blog post and were eager to be in touch with Nancy.  It turns out that the family knew about Gerald's journal, but were unsure what had ever happened to it. Gerald's mother received his belongings when he was killed, but the journal contained privileged information and could not be returned until after the end of the war.  Unfortunately, it never made it's way back home to the family. Nancy found the journal in a Goodwill Store in Maryland.  Karla has been in contact with Nancy and is hopeful that she can someday add her Uncle Gerald's journal to his foot locker.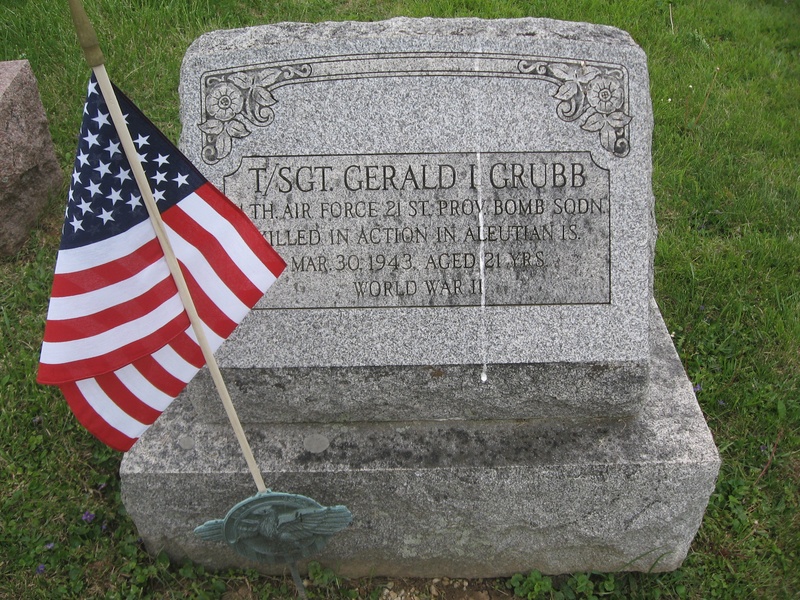 We remember all of the Woodcock Valley veteran's who defended our country this Memorial Day including Matthew G. Boyer and Gerald Isaac Grubb, as well as those who are still bravely defending our country!
Categories: Family Names, General Chatter
You can also visit my personal family database at
/