Shopping Cart
Your Cart is Empty
There was an error with PayPal
Click here to try again
Thank you for your business!
You should be receiving an order confirmation from Paypal shortly.
Exit Shopping Cart
Genealogy of the Woodcock Valley
Huntingdon County, Pennsylvania
| | |
| --- | --- |
| Posted on September 29, 2012 at 4:50 PM | |
Gerald Isaac Grubb was a Woodcock Valley hero who paid the ultimate sacrifice during World War II.  
I was recently contacted by Nancy, who aquired Gerald Grubb's World War II service journal.  From entries she shared, Gerald was the radio operator on air flights during the war.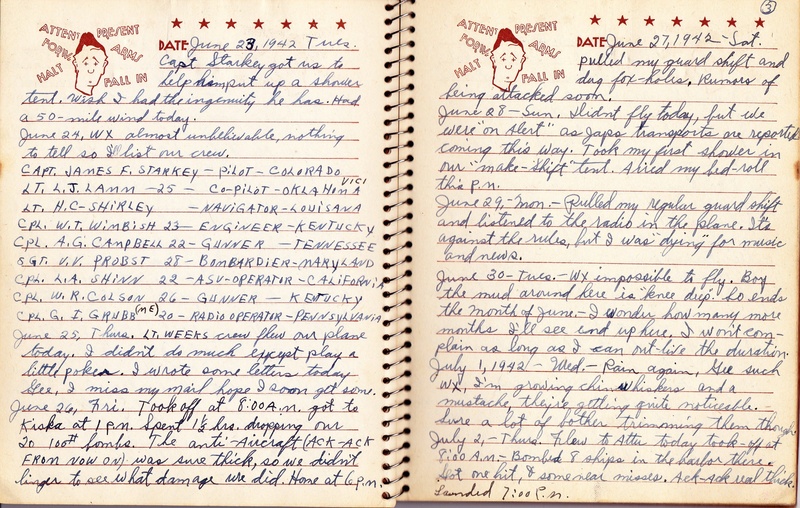 Gerlad Isaac Grubb was born October 8, 1921.  He was the son of J. Carl Grubb and Edythe Lillian Horton Grubb.  
J. Carl and Edythe were the parents of the following known children:  Loretta J., Gerald Isaac, Cloyd Philip, Willard L., and Kirby C. Grubb.  The father, J. Carl, was killed March 30, 1938 by a dynamite explosion.  Gerald writes of his father's death, his brother Cloyd's birthday, and the wish that Cloyd would not be drafted and "I don't want any of my brothers in this war.  I'll try to do enough for all of them."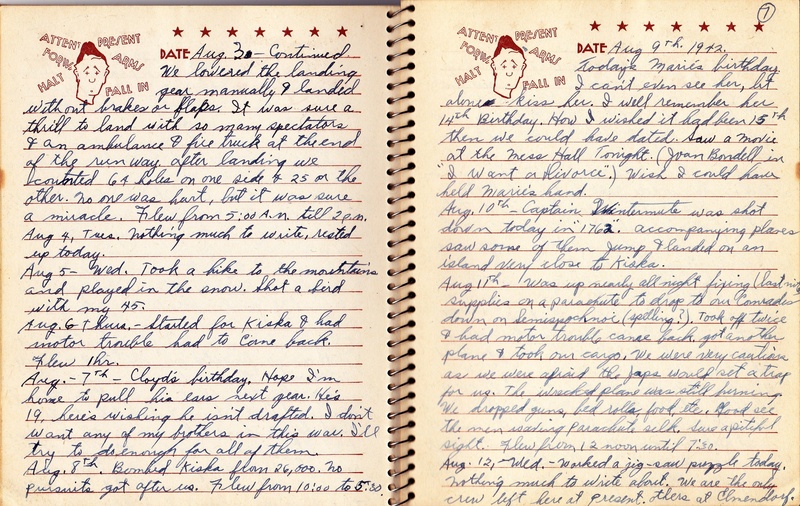 He was the grandson of Isaac Bowers (1866-1946) and Rachel Ann (Shultz) Grubb (1875-1964) and Philip A. (1863-1943) and Alberta Vance (Houck) Horton (1865-1939).
From his journal, it would also appear that Gerald had a sweetheart, Marie Hoover, who gave him the journal for his 21st birthday.  Gerald writes about Marie, and her birthday on August 9.  It seems as if she might have been turning 15 in 1942.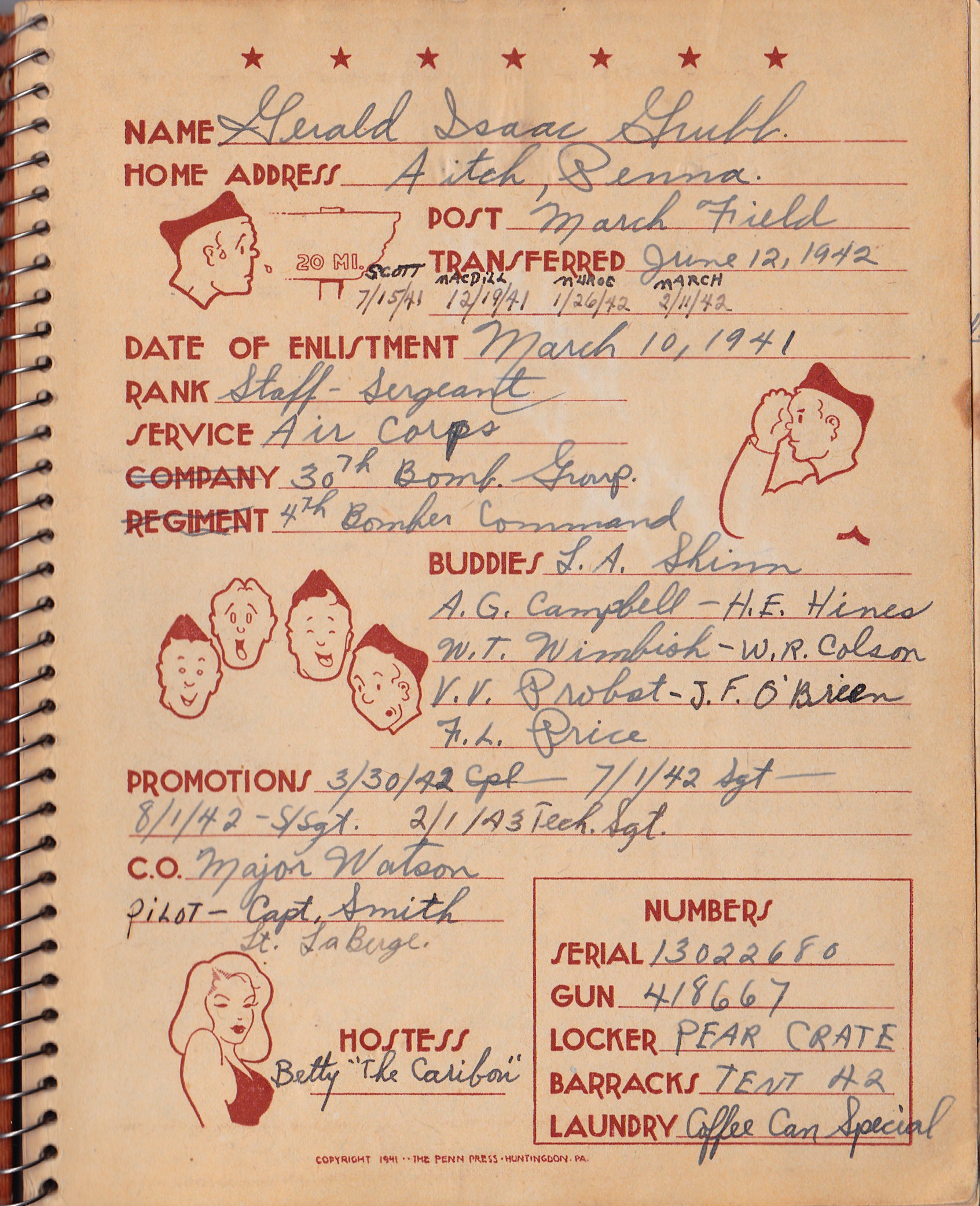 Unfortunately, Gerald Isaac Grubb lost his life on March 30, 1943 in the Aleutian Island area.  The details of his death are not known.  His last journal entry appears below on March 29, 1943, the day before he died.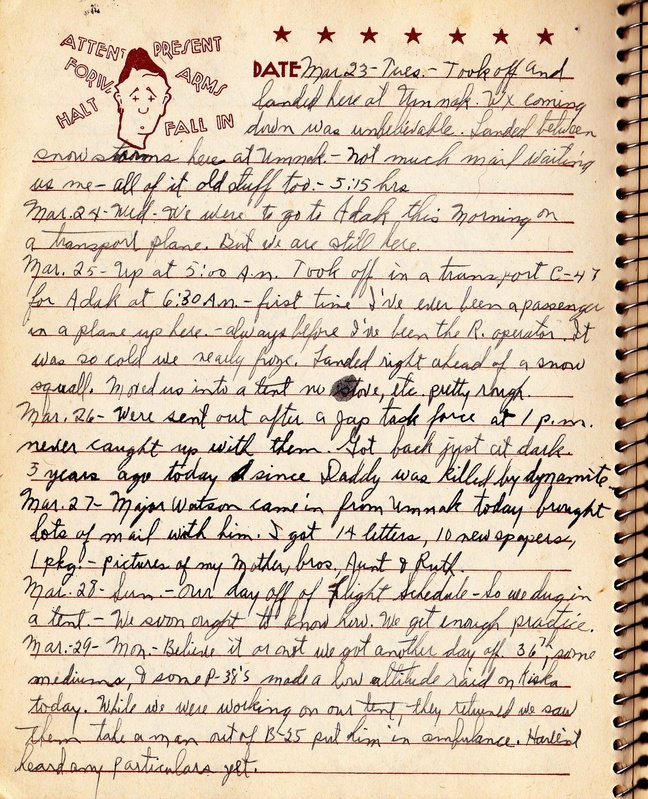 The body of Gerald Isaac Grubb was returned to the Woodcock Valley area of Huntingdon County, where he was buried in the Old Stone Church Cemetery in Penn Township.  A news article of Gerald Grubb's death states:
"S-SERGT. Gerald I. Grubb---Another young soldier from Huntingdon County has paid the supreme sacrifice, according to a telegram received today by the Huntingdon Chapter, American Red Cross.  The soldier who gave his life in defense of his country was Staff Sergeant Gerald I. Grubb, son of Mrs. Edythe L. Grubb of Aitch. He was killed in action in the North American area on March 30th. The young hero was 21 years old on October 8, 1942, and at that time he was on duty as first radio operator on a Consolidated bomber with the Air Corps in Alaska. Sergeant Grubb's father, J. Carl Grubb in deceased. Isaac G. Grubb, of R.D., Hesston, is his grandfather. A brother Cloyd Philip Grubb, was among the selectees who left Huntingdon on Thursday for the reception center at New Cumberland, to begin his army career. Sergeant Grubb is a graduate of Huntingdon High School, class of 1938. He enlisted in the Air Corps in March 1941. He received his training at Tampa, Fla,; Leavensworth, Kansas; Scott Field, Illinois, and March Field, Cal. The young aviator had several hundred hours in the air and had extensive experience in aerial combat. His squadron commander while he was still on duty in California, was Colonel Woods, who was commander of the late Capt. Colin P. Kelly. Many of Gerald's friends stationed in California at the time personally knew Captain Kelly."
Nancy is trying to locate Marie Hoover or a close family member with which to share the journal.  I wish I had a photo of Gerald Isaac Grubb to share, but I do not.  If you have one that I can share, please contact me.  You can view other pages from his journal in the Grubb Family photo album.  I also have a photo album for his grandparens, the Isaac and Rachel (Shultz) Grubb Collection, with some family photos.
If you know of a close family member, or have more information on Marie Hoover, please use the Contact Me button with more information.  I do know that his brother Cloyd had at least two daughters, but I know very little about Gerald Isaac Grubb's siblings, nieces, or nephews.
Every year before Memorial Day, my husband and I place a flag on the grave of Gerald I. Grubb.  I now have a new appreciation for his service to our country after reading his journal pages that Nancy so graciously shared.
Categories: Site Updates, Family Names
You can also visit my personal family database at
/