Shopping Cart
Your Cart is Empty
There was an error with PayPal
Click here to try again
Thank you for your business!
You should be receiving an order confirmation from Paypal shortly.
Exit Shopping Cart
Genealogy of the Woodcock Valley
Huntingdon County, Pennsylvania
| | |
| --- | --- |
| Posted on July 12, 2016 at 11:10 PM | |
For a year and a half, I worked at Isett Heritage Museum in Huntingdon, PA.  In many ways, it was an ideal job for this genealogy loving history buff!  I loved being surrounded by the local history items and daily reminders of days gone by.
One of my favorite pieces in the collection was an unusual pillow, hand-crafted and hand-stitched in 1905 by the students at the Marklesburg Normal School.  The pillow had been donated to the museum by Elaine Fisher in memory of her mother, Grace Irene (Morningstar) Fisher (1927-2011).  Irene was the daughter of Howard Dewey Morningstar (1898-1957) and Sarah Grace Stone (1903-1973).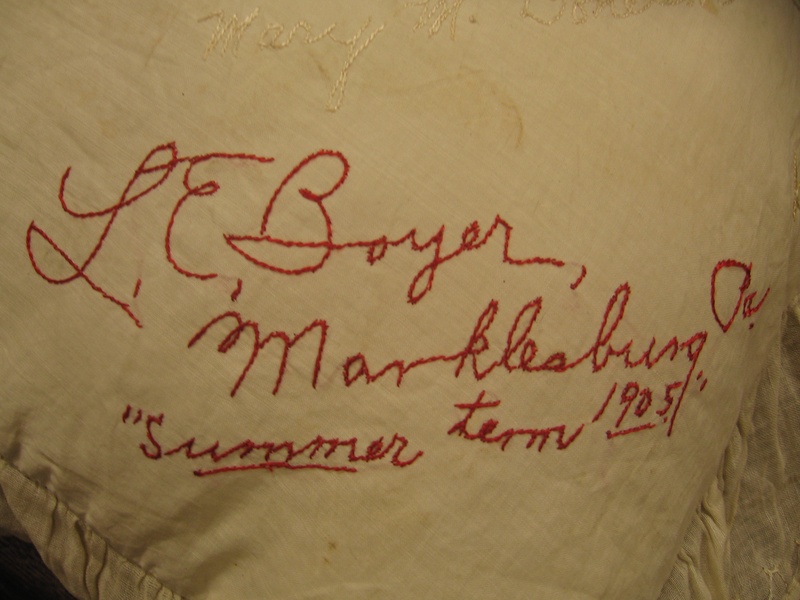 In 1905, during the summer session, 52 teachers in training created a very special keepsake of their time at the Marklesburg Normal School in Penn Township, Huntingdon County, PA.  During the school year, the Marklesburg School housed grades one through eight, and was opened to young adults who wanted to further their eduction over the summer months.  The Normal School was affiliated with Juniata College.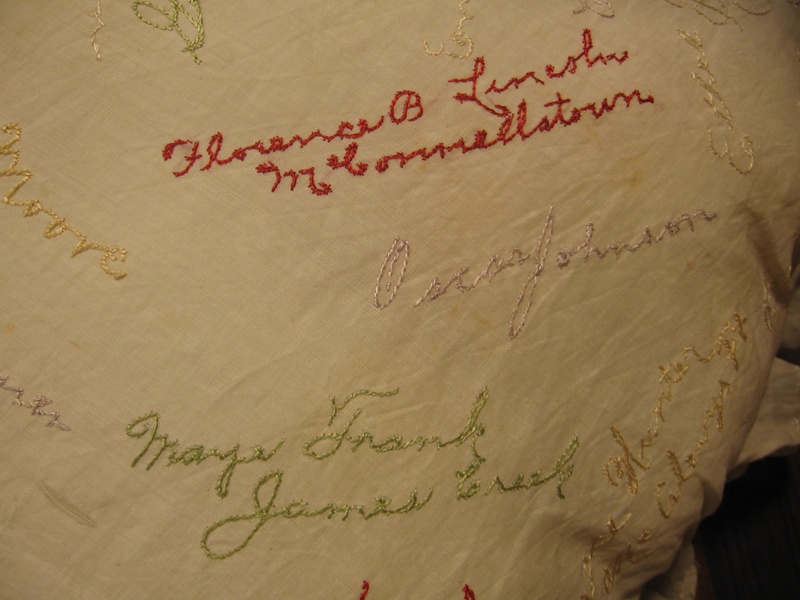 Each soon-to-be-educator signed the pillow in stitches, and some included their hometown too.  The signatures on the pillow include:
Xopher Beck
Mayne M. Hoover
Ada Householder
J. H. McCall
Lorane A. Mierley
G. Homer Pheasant
Clyde Shultz
Raymond D. Baker
Harry Moore
Nelson Keith, Aitch
Maye Frank, James Creek
Florence B. Lincoln, McConnellstown
Blanche Boyer
Jno. H. Hess
Ella M. Lininger, Grafton
Minnie S. Marshall, Greenwood Furnace
Ethel Grace Isett, James Creek
Charles Johnson
Maude Vaughn, Salter
Blanche Speck, Huntingdon
Ira A. Taylor, Todd
Homer Miller
Maude Hetrick
Mary M. Donelson
D. Rolla Pheasant
Winfield Garner
John C. Horton
Emma Crum, Salter
Grace L. Shultz
Otto O. Stone
Frank Wright
John C. Householder
Gilbert Daughenbaugh
Wilmer A. Brumbaugh
Carrie A. Smith
Flora M. Cramer
Edna Boyer
Mary Davis
Oscar Johnson
Grace Hunter, McAlevys Fort
Samuel M. Schell, Aitch
Gertrude Roland
Oscar Stone, Salter
Geo. E. Corcelius, Hesston
Joseph Hess, Orbisonia
Effie Dell
Carrie Chilcote
L. E. Boyer, Marklesburg
John H. Keith
C. Pearle Crum
Doris R. Glasgow
Wilbur D. Swope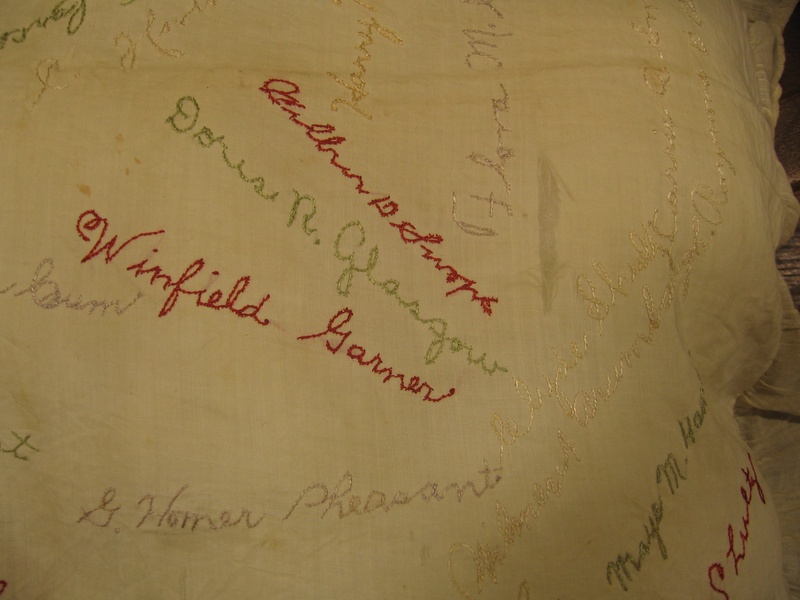 You can learn more about other students and instructors of the Marklesburg School by clicking on the link. 




This special pillow is a lasting legacy of not only a special group of young men and women, but of an unique education program that operated within the Woodcock Valley.




Two years ago, my son and I were fortunate enough to attend a public auction in Marklesburg, where they sold a box of teacher's manuals and student books from the Marklesburg Normal School.  Being a former teacher, book lover, and history buff, I couldn't pass up the books.  Many of the books have local names inside.  I will write about them in a future blog post.




Are you wondering about now how many jobs I've had?  LOL  I have finally found my forever job - accounting is for me!!!!

Categories: Family Names

You can also visit my personal family database at

0

/