Shopping Cart
Your Cart is Empty
There was an error with PayPal
Click here to try again
Thank you for your business!
You should be receiving an order confirmation from Paypal shortly.
Exit Shopping Cart
Genealogy of the Woodcock Valley
Huntingdon County, Pennsylvania
but it used to be a home filled with love and memories and family.  But when those are gone, it's no longer a home, right?  It was a bittersweet day on July 21, when my dad and his siblings sold the family home at public auction.  It was the only Fisher home I ever knew, but it wasn't the first for them.
My dad was one of 13 children born to Philip Carl "Mike" Fisher and Cora Blanche (Norris) Fisher.  They started in a log house in the Upper Corner area of Penn Township.  My dad recalls that the house had only one big room upstairs that was divided by a curtain to make two bedrooms.  One side was for his parents and the other side for all the kids.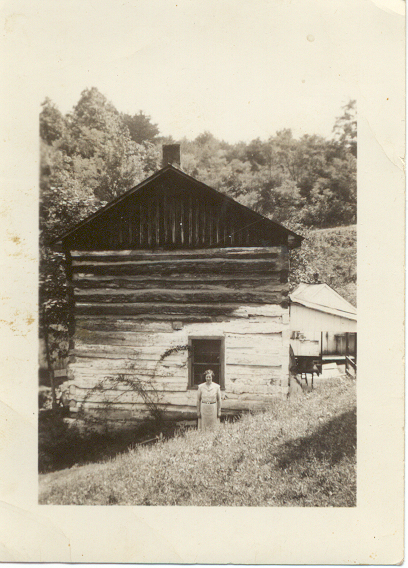 All of the children were born in the log cabin, and two of the children died there at a young age.  The house had belonged to Philip's parents, Jackson and Sarah Belle (Swope) Fisher.  Jackson died shortly after his youngest son married, and Sarah Belle continued to live with her son and new daughter-in-law.  Sarah Belle acted as midwife and delivered all of her grandchildren up until her death in 1937.
In May, 1945, a very large Fisher family had the opportunity to buy a farm with a larger brick farm house that gave everyone room to grow.  The house afforded enough room for a dining room table large enough for the whole family, and enough room for Grandma to bake bread, make pies, tend her garden, can and preserve the crops, and do all the things farm wives did back then.  However, this home was not to last either.  The US Army Corps of Engineers purchased the farm for the construction of Raystown Lake.  The farm itself would not be under water, but the house and outbuildings were torn down to create the Seven Points Recreation area.  The farm is right across the road from the Visitor's Center.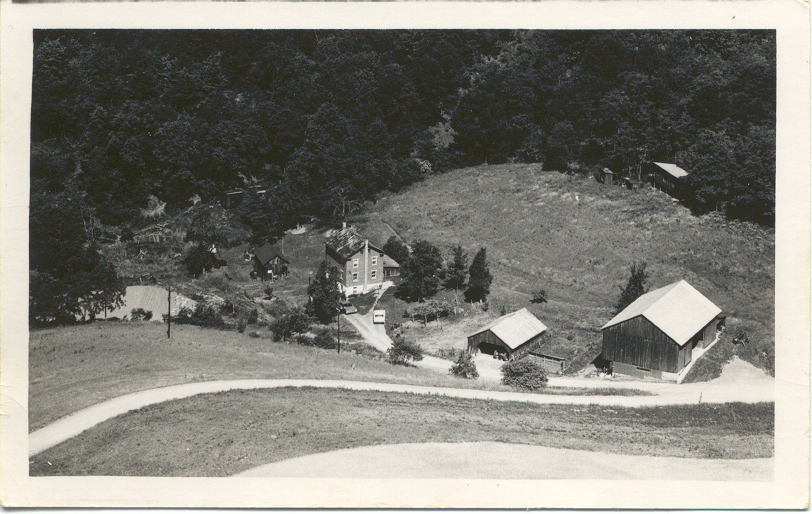 So, my widowed grandmother bought three acres in Penn Township between Hesston and Marklesburg and had a split-level home built between 1972 and 1973.  She made sure it had an open floor plan to accomodate her still growing family that was now being blessed with many grandchildren.  There was always room at the dining room table, and if there wasn't, a make shift table was extended into the living room.  There was always enough seating in the living room too.  I'll never know how we all fit in that house, but we most surely did.  It was always the central hub and gathering spot for any family function.
Eventually, Grandma died, and then my uncle who lived there died, until it was only my aunt left.  As everyone aged, so did the house and upkeep became more difficult for my aunt.   While it has been hard to say goodbye, it is just a house, but one with so many wonderful memories.  I had to take some final photos of the fuzzy wallpaper in the bathroom and the old wallpaper in the kitchen.  There are other aspects that will always be in my mind's eye, for which no photos are necessary.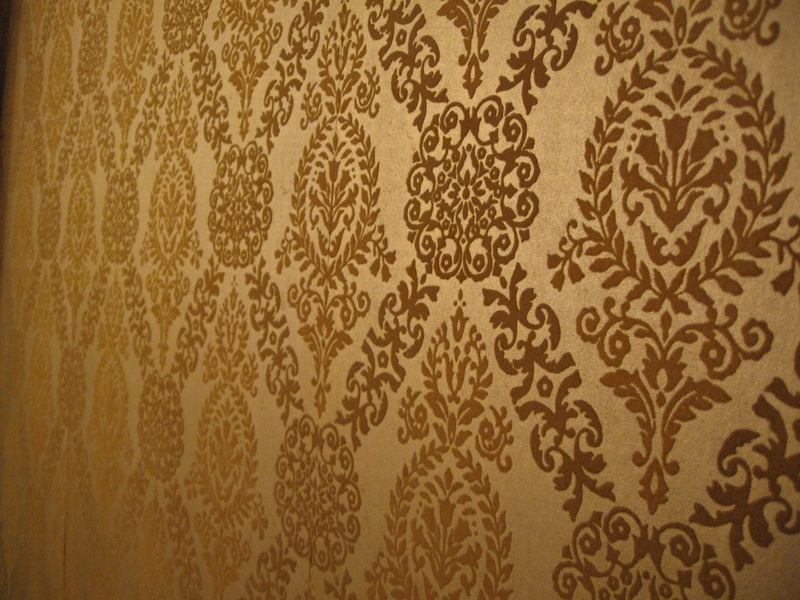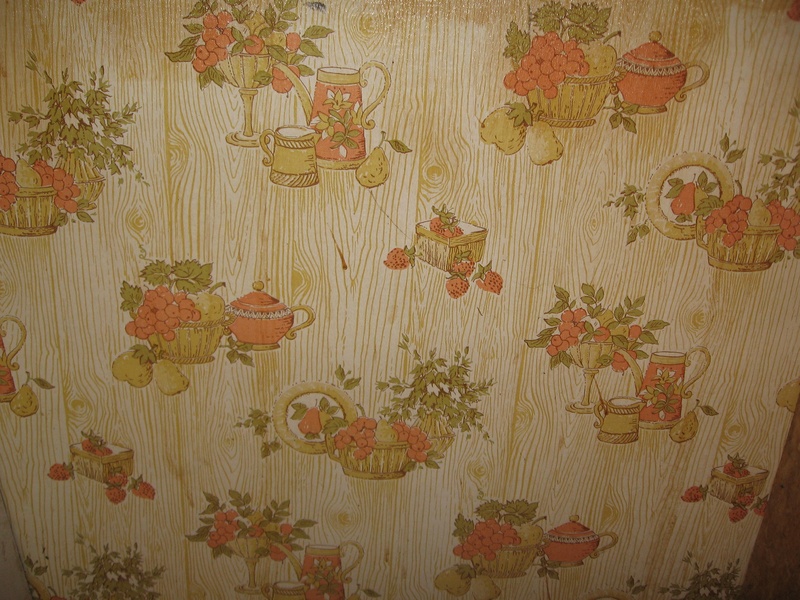 We all gathered on a cold, drizzly morning to see the family treasures sold.  I was fortunate enough to buy my grandmother's china cupboard, a quilt made of feed-sacks that she sewed together, a set of her dishes, and some other special memories.
One of my most precious purchases was a box of old photos.  I saw the assistant pull the box out of another box and put it aside.  I watched as he looked through the box while other items were sold, and I could see the old photos.  I have no idea who was bidding against me, but those photos had to be mine regardless of the price.  I paid dearly for them, but I was thrilled with my box of more than 50 photo postcards.  
This brings me to the point of my rambling blog post...the photos in the box are largely unidentified.  The box was full of photo postcards and one tin type.  The box of photos obviously belonged to Sarah Belle (Swope) Fisher, because the few that are addressed are to her.  From what I can tell, the whole box appears to be her friends and relatives.  I need your help to identify these photos!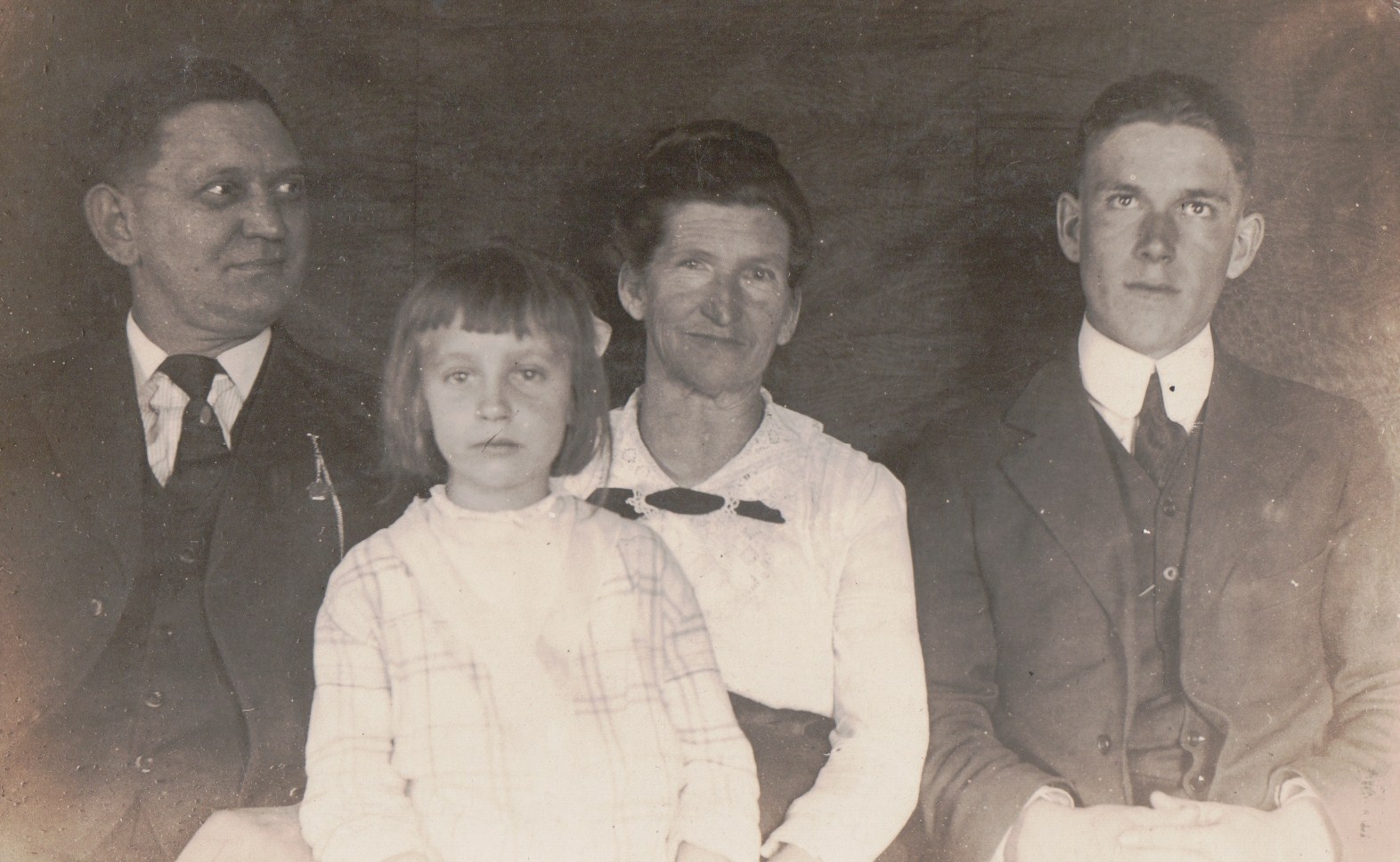 Here is an example of one of the photos.  I am very certain that Sarah Belle (Swope) Fisher is in the middle and that the younger man on the right is probably one of her sons, maybe Chester.  I suspect the man on the left is Orbison Clapper, and that the young girl is one of his daughters.  Orbison was Sarah Belle's nephew through marriage.  This man, who I suspect is Orbison, appears in a lot of the photos.  There definitely were photos of his children in the box.
All of the photos from the box that have not already been identified are included in the Unknowns Photo Album.  Please take a look at these photos and see if you find a familiar face.  If you do, please post a comment under that photo!!!
It was a bittersweet day to say good-bye to our family home, but it was a special day to be able to buy some of my fondest memories back from my grandmother's home, and to be able to share a box of special photos with others who are interested in the Fisher family and local history.
I've been taking my son to the summer library program at my school each Thursday.  Each week there is a different topic of interest for the kids.  This past week, a representative from Isett Acres Museum came and talked about school in the old days.  I knew I would enjoy the presentation, but I wasn't sure how much my three year old would glean from the discussion.  However, I am happy to report that he learned how to shoot marbles and can now scatter them all over our living room floor!
Each week, they put out books related to the topic of the speaker.  So, they had some local history books and books about Pennsylvania on display.  I checked out two books by Nancy Shedd, past director of the Huntingdon County Historical Society.  I had never had the privilege of reading Two Centuries in Huntingdon and 1887-1987 Second Century:  A Huntingdon County Becentennial Album.  
Both books provided fascinating reading.  I wanted to share some interesting bits and pieces I picked up that relate to the Woodcock Valley.
From 1887-1987 Second Century: A Huntingdon County Becentennial Album:
There was an inn, on Coffee Run, in Lincoln Township, called the Java Inn.  The inn was in existence in the 1880s.
Jacob's in Todd Township was served by two competing railroads for a short time:  The East Broad Top and the Juniata and Southern Railroad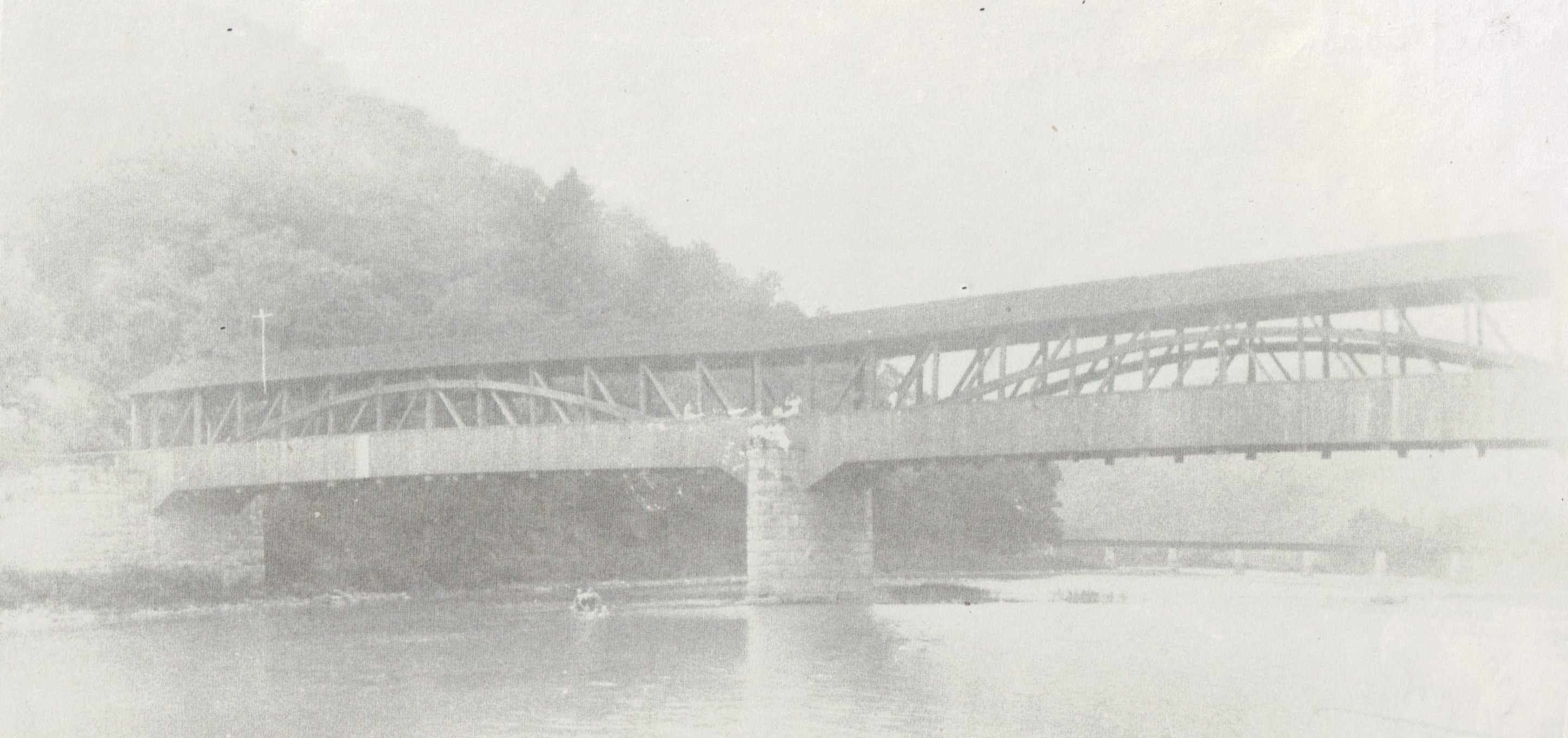 The Juniata and Southern Railroad bridge can be seen in the background of this photo that Clair Grove shared with me.  Schell's Bridge, which crossed the Raystown River, is in the foreground.  You can read more about the history of the Juniata and Southern Railroad and Jacobs by clicking on the link.  
The Brumbaugh Company Store in Marklesburg sold gasoline through the Atlantic Refining Company.  In the late 1930s, regular gas was 18 cents per gallon.
There was a train wreck near the Hummel station in Hopewell Township that killed the conductor in 1942 on the Huntingdon & Broad Top Railroad.
The Huntingdon & Broad Top Railroad tracks were removed at the Marklesburg Station in Aitch in 1954.
You can purchase copies of both of these books by visiting the publications area of the Huntingdon County Historical Society.  Nancy Shedd has also created a new website entitled Huntingdon History Research Network.  You can check out her new website and endeavor by clicking on the link.
An old farm house sits down a gravel lane...I'd never visited before, but walking up the porch steps to the porch that ran the whole length of the house, I had to hold my breath in anticipation of what I was about to encounter.  As the screen door opened to the kitchen, I was transported back in time to a scene from the 1920s, if not earlier!
My dad and I went to visit his first cousin, George Acker on Friday, June 22, 2012.  I had arranged the visit through George's niece, Lottie Ebersole.  I wanted to scan his old photos with my Flip-Pal portable scanner.
I had always heard tell growing up that cousin George's house was unchanged from when his mom and dad were alive.  George is 89, and has lived in the farm house all of his life.  It is a large old house with 5 bedrooms, a beatiful summer house, a spring house, outhouse, smoke house, barn, and other outbuildings.  The entrance to the house has a stunning view of Tussey Mountain.  As I set foot in the kitchen, I was overcome by the feeling of the generations who were there before me as I took in the old cook stove and sat at the kitchen table that has always been there.  A modern stove, refrigerator, and television have been added to function with the old farm sink.  Utterly amazing!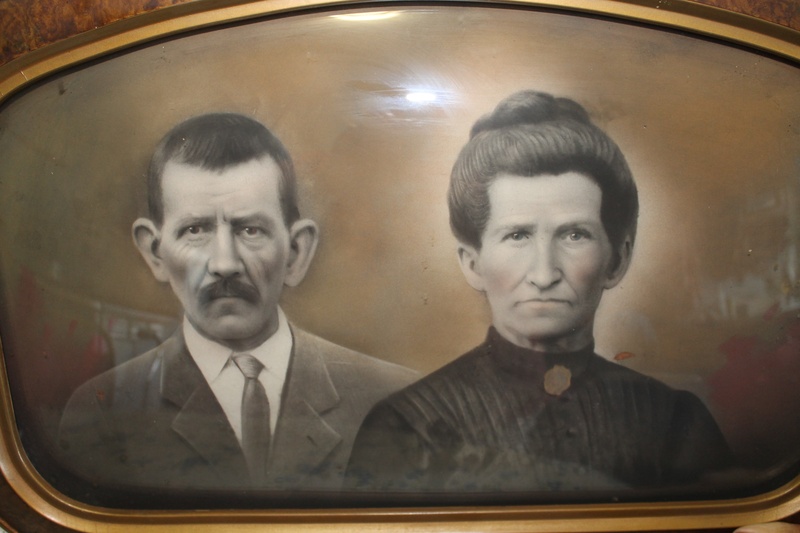 George's mother, Anna Luella Fisher, was the daughter of Jackson and Sarah Belle (Swope) Fisher, featured in the photograph above.  Anna married William Preston Acker.  Together, they had three children:  Harold, George, and Mary.  Anna and William are pictured below.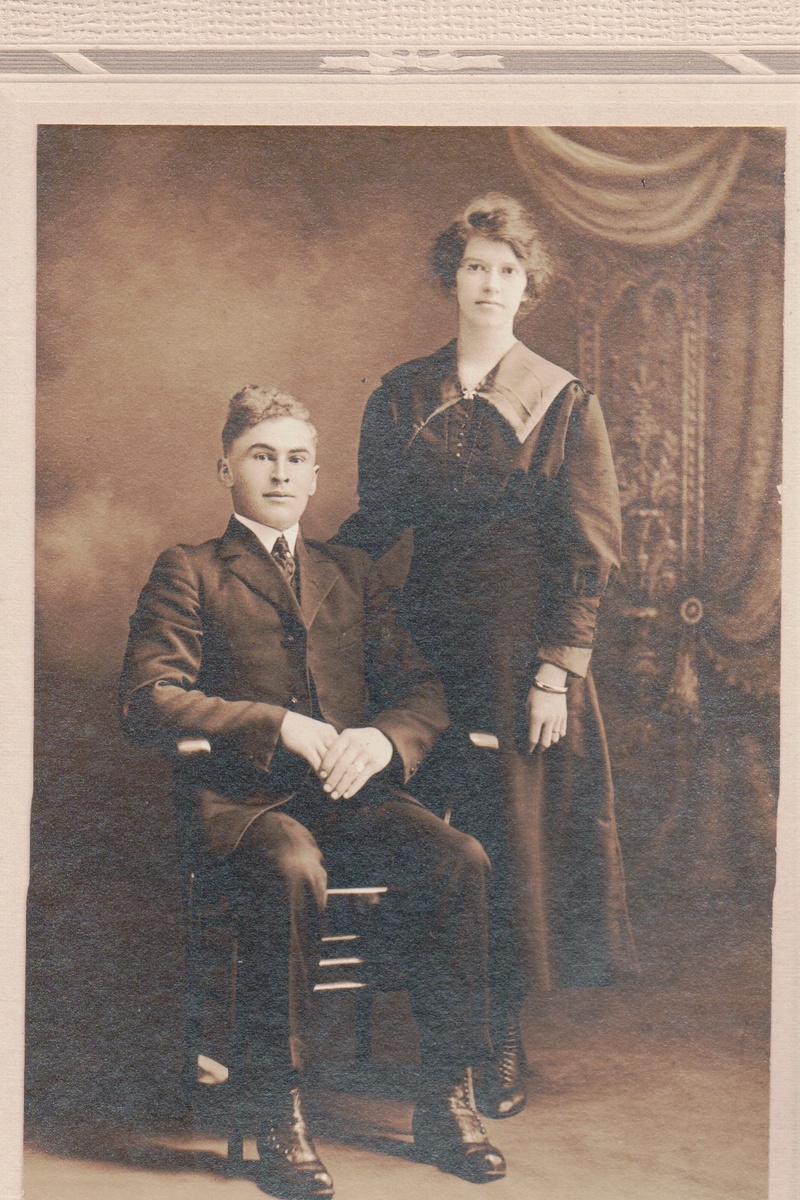 A young George, pictured below from his school days, never married. He has farmed all of his life, and has been surrounded by a loving family of nieces and nephews and wonderful neighbors and friends. He is well known for his annual weather predictions for the year that he gathers each January.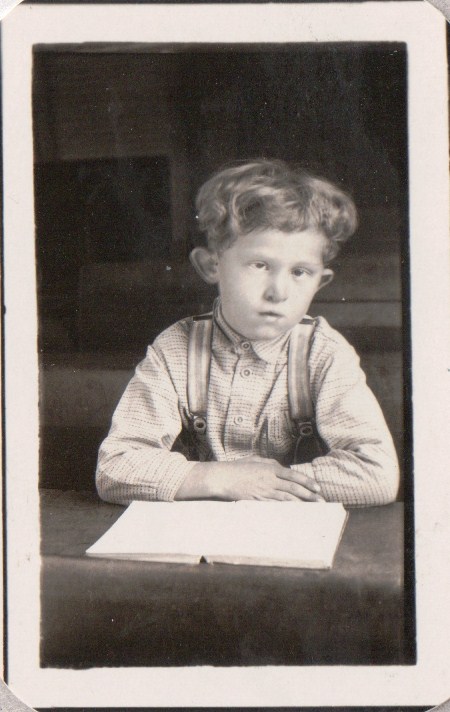 George still has wonderful memories of his family and their friends.  He comes from two large families:  the Ackers and the Fishers.  The Acker family has a history rich in the Cove area of Blair County.  His Fisher line came over the mountain from the Penn Township area of the Woodcock Valley in Huntingdon County.  We had a wonderful visit as he shared his family photos, momentos, and treasures.  I scanned over 50 photos during my visit.  I have uploaded most of them to this website already.  The easiest way to see the new photos is to click on Photos and Obits and then click on the Recently Added button.  I added many photos to the Fisher Family album, but also to the Joseph Norris, Jr. Family, and Other Families.  Some of the names include Fisher, Acker, McCall, Fouse, Huntsman, Norris, and States.
I have been putting off going to visit George for a long time.  It has been on my to-do list, but it just seemed like I never made it.  We recently sat with George and Lottie at my uncle's funeral dinner, and I realized I had to make the time!  Lottie and I exchanged information, and she graciously set the visit up for me.  I am so thankful that we had the chance to visit and gather information togehter.  Here's to hoping that George and my dad still have many more visits to come.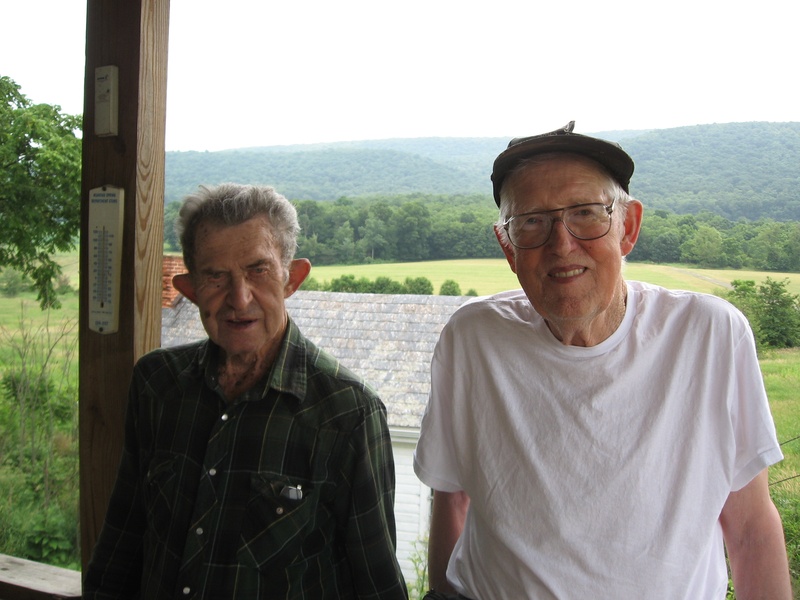 Happy Thanksgiving!  This year, I am thankful for my wonderful family, my many blessings, and those of you who continue to visit and make this website better on a regular basis!
Leslie Kyle recently added photos that he took at the Huyett Cemetery in Hartslog Valley.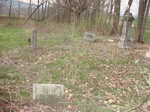 Some of the stones he photographed can be read.  He gave a description of the cemetery in his forum post under the Householder name.  You can access his description and cemetery photos by clicking on the links.  
If you need more information on the names interred in the Huyett Cemetery, I do have a copy of Polly Wheland's book, The Lost & Forgotten Cemeteries of Huntingdon County, and can provide more information for this cemetery if you think you might have an ancestor buried there.  The surnames included in the cemetery include:  Yocum, Brenneman, Knode, Swoope, Foreman, Harnish, Enyeart, Shirer, Moore, Bonnel, Hamer, Hicks, Patton, Huyett, Cozzens, Householder, Ormes, Murrel, Willard, and Forrest.  Polly did her transcription of the cemetery sometime prior to 1988, and obviously before the devastation that Leslie encountered.
Thank you, Leslie, for taking these photographs while you could, and for sharing them with us!!!
Long time, no see...on my part!  I want to thank all of you who have continued to visit the website and add photos and other pieces of information.  I greatly appreciate that.  
I have to apologize, because my life has been so crazy since school started that I feel like I barely have time to breathe, let alone work on genealogy.  I am hoping for a tad more free time over the upcoming holidays and when summer rolls around
I was hoping maybe some of our members might like to step up and write an occasional blog entry for the website about a certain branch of their family, their genealogical travels, a favorite cemetery, or any other topic of interest that would appeal to other members.  If you would like to write a blog entry, just let me know and I will grant you the permission you need to add it to the blog.  Thanks for considering!
Keep on visiting the website, adding photos and obits, and asking questions and posting information in the forums.  As always, feel free to message me with any questions you may have, and I promise I will eventually get back to you.
In the meantime, yes, I am still alive and kicking...
Your Affectionate Son - Letters form a Civil War Soldier is a new book with a collection of 34 letters that were written by James Cleaver to his father, Charles Cleaver.  James Cleaver served with the 37th PA Regiment, 8th Reserve, Company F from Bedford County.  The book provides a first-hand account of the Civil War from 1861-1864.
A list of soldiers in his company are included on the corresponding website.  
The author, Milann Daugherty, will be holding book signings this weekend.  Saturday, she will be signing books at the Bedford Historical Society from 1 to 4 p.m.  She will also be at the Everett Train Station from 2 to 4 p.m. on Sunday.  She will speak at 2:00 on Sunday, and refreshments will be served during the open house.  
Happy Anniversary!  The Genealogy of the Woodcock Valley website is one year old today!  I am so thankful for everyone who visits this website and shares their knowledge of the Woodcock Valley area with others!  This website was a dream of mine that I was able to make come true, and I have so enjoyed corresponding with new friends about the genealogy and the history of the Woodcock Valley.  In order to help the website continue to grow, please continue to so generously share your photos and obits, family information, and knowledge of the area.  Also, spread the word and tell others about this website, and ask them to join.  Thank you, and here's to another great year!
We just finished another week-long running of the bigger and better Huntingdon County Fair.  The fair started in 1831.  It is your typical county fair with food vendors, games, rides, livestock, exhibits, entertainment, truck and tractor pulls, and crowds of people.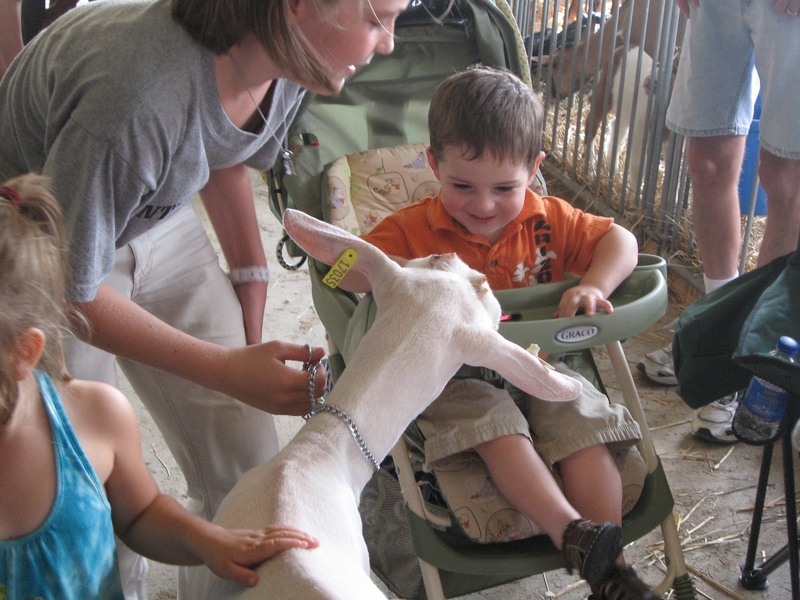 However, the Huntingdon County Fair offers something unique for people like us...the Farm Museum.  The Farm Museum not only contains antique tractors, but anything you can imagine that tells the history of Huntingdon County!  I think you could probably spend all of fair week in the museum and still not see everything!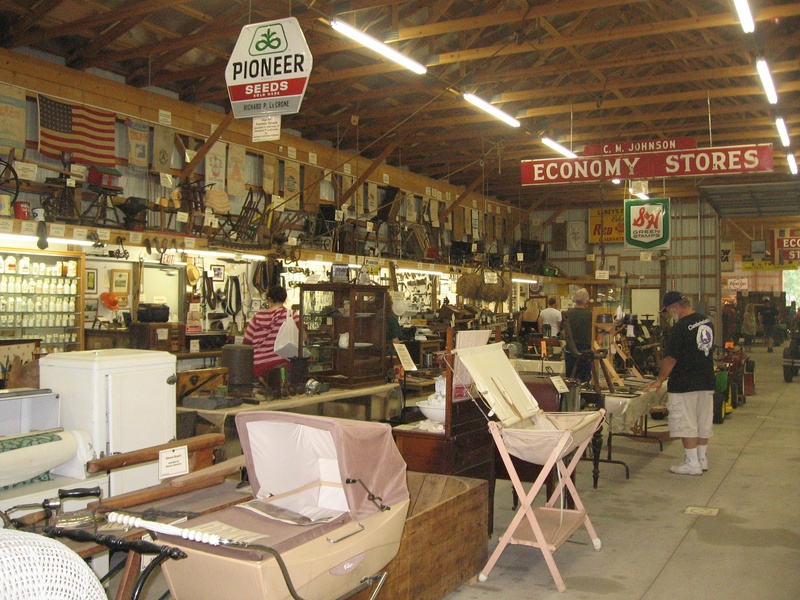 This year, there were many new items on display in the Farm Museum.  One of the treasures that awaited me was the sign from Charlie Johnson's store, which can be seen in the photograph above.  It is the red sign that reads "C. M. Johnson - Economy Stores."  The sign was donated by Raymond "Pud" Morningstar and family.  I attended the public auction when this sign was sold.  It is when I purchased Mr. Johnson's obituary collection.  There was a wonderful write-up below the sign, which can be seen below.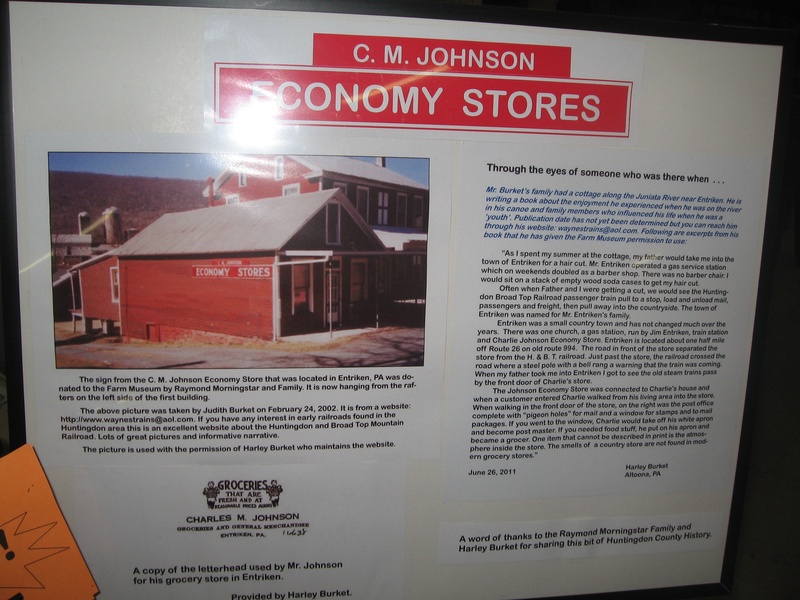 In keeping with the Entriken theme, another new addition this year, was an Entriken baseball uniform that was donated by Neal Houck.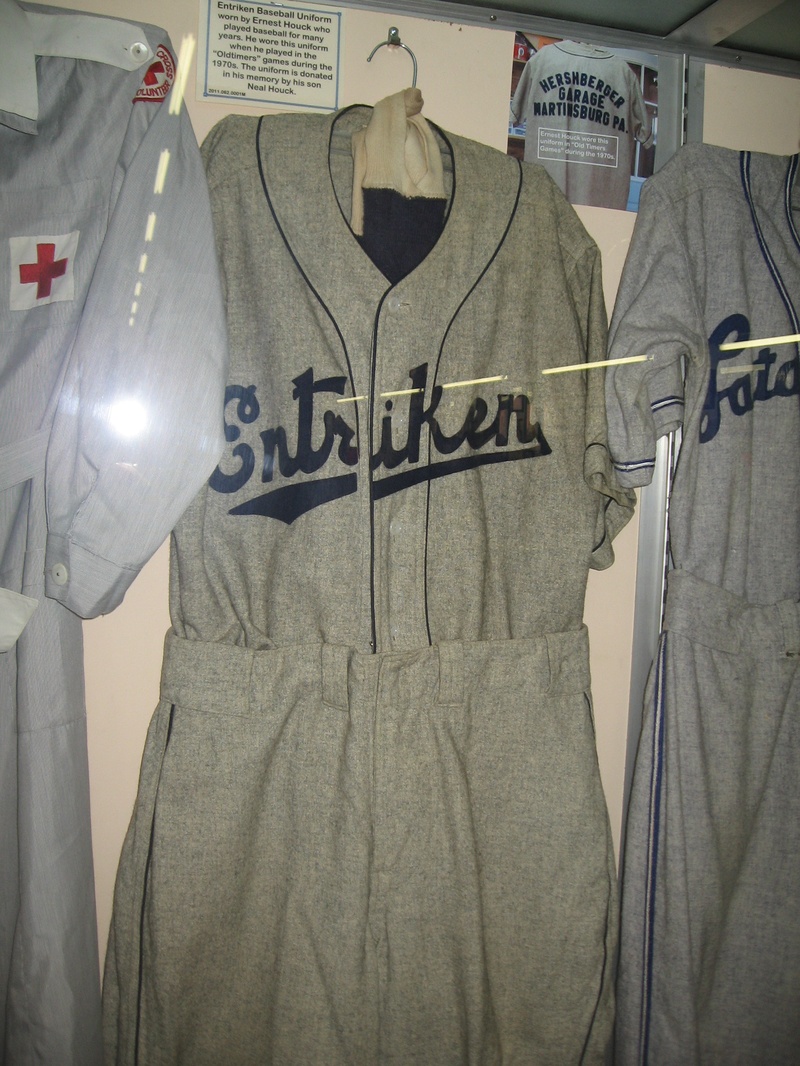 And finally, there are just old favorites that I have to visit every year that bring back such fond memories.  One of the exhibits I enjoy and have to revisit is the printing press and photgraphic materials that were donated by the family of the late Clair "Pappy" Hetrick.  Pappy helped to foster my love of history.  He lived close by, and helped me with my Civilian Conservation Corps paper in college.  I was also fortunate enough to spend some time with him talking about the local history of the Woodcock Valley.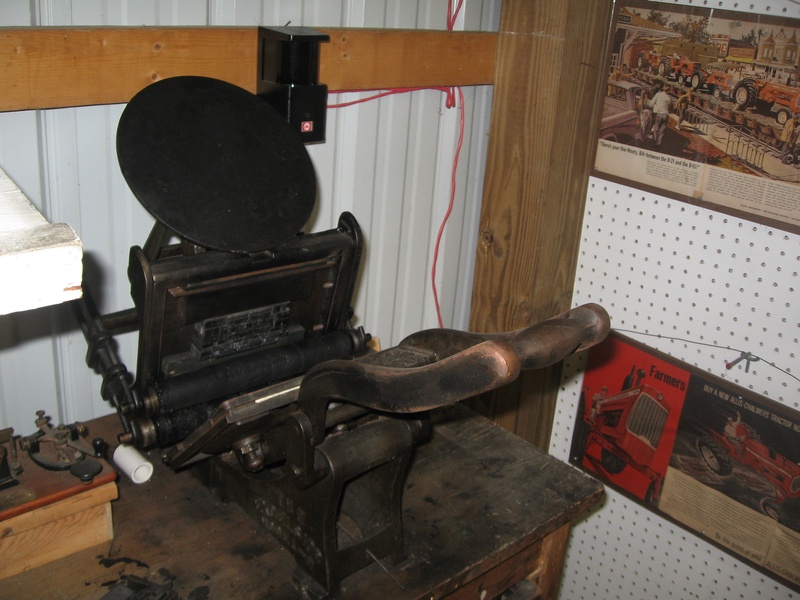 The Huntingdon County Fair has come and gone for another year, but there will be old friends to meet again next year, and maybe even a new treasure to be cherished in the Farm Museum.
One of our site members, Carolyn Carroll, invited everyone to the Foor Family Reunion, which was held on August 6th.  I recently noticed that the Foor Family Reunion made the local news on WTAJ-TV 10 out of Altoona, which is our local CBS affiliate.  You can read the news article and watch a video about the Foor Family Reunion at the WTAJ website, We Are Central PA. 
I know I have ties to the Foor family through various marriages.  If you are a descendent or have ties to this family, you might want to plan on attending next year's reunion!
It is family reunion season.  If you have a family reunion that you would like to post on the calendar, please feel free to do so.  You can see upcoming events on the left hand side of your screen under "Upcoming Events."  There is a Bechtel family reunion on August 14, and a Norris family reunion on August 21.
Nancy Shedd, retired executive director of the Huntingdon County Historical Society, has a new website up and running called the Huntingdon History Research Network.  The goal of her new site is to showcase the unpublished research of local authorities on Huntingdon Couny history.
Some of the local topics of interest include:
Bibliography of Early Travelers Through Central Pennsylvania
Captain Jack: Man or Myth?
Civilian Conservation Corps in Huntingdon County
Corner Post Log Construction
First in Our Hearts:  Huntingdon County "Firsts"
Historical Use of the Juniata River & Its Branches
John G. Chaplin, Barber and Artist, Huntingdon
Orphans Home Residents
Preserving Old and Abandoned Cemeteries
Revolutionary War Soldiers Gravestones in Huntingdon County
Taking the Liberal Arts on a Field Trip
Timeline of Early Transportation History, 1748-1854
There are also a number of historic documents included on the website that can be downloaded.  They include:
An Account of Huntingdon County By Joseph Adams, 1853
Barree Township History
Conrad Bucher's Journey 1797
First Huntingdon County Courthouse
Jackson Township History
Petitions for the Formation of Huntingdon County
Robert Allison's March to Buffalo, 1812
Standing Stone History
Thaddeus Mason Harris's Tour Journal 1803
West Township History
The website will continue to grow as researchers submit their topics of interest.  My work on the Civilian Conservation Corps is included, since it is an unpublished research project I did in college.  If you have any works you would like to submit to Nancy's website, you can find instructions on how to do so at the website.  Please be sure and check out Nancy's new website!
You can also visit my personal family database at
/